Workshops
Host a Personal Safety / Self-Defense Learning Lunch or Workshop for your Staff!
Knowing some self-defense techniques has become an essential part of life in today's society-especially in times of economic downturn. We must all be aware of our surroundings at all times to remain safe. It's essential to know how to prevent a violent situation from happening before it's too late. And, if needed know how to physically protect yourself from being victimized by an attacker.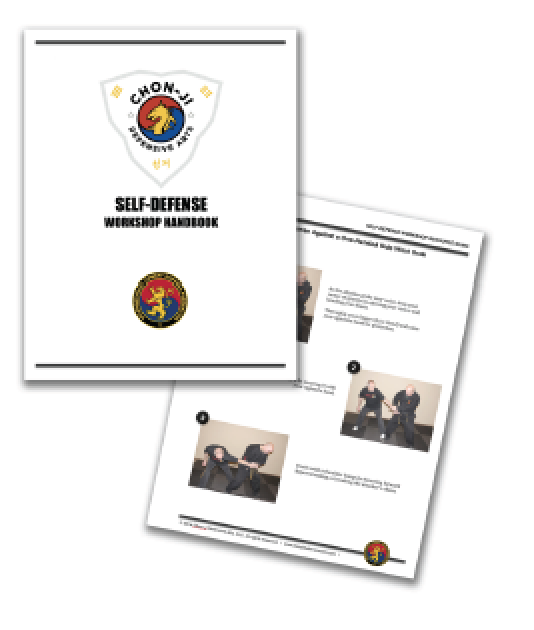 Our self-defense workshops are run by seasoned martial arts instructors and designed to give you essential hands-on training that are needed to quickly and effectively defend yourself - all in a fun interactive team-building workshop. Programs are personalized and tailored for the safety of each attendee with a low attendee to instructor ratios to ensure the best self-defense and personal safety training is achieved. Techniques and scenarios are applied in a manner that works at each attendee's physical and emotional capabilities to maintain a safe and supportive atmosphere.
Gain hands-on effective defenses against common attacks.
Learn how to improve your balance, speed and reaction time.
Learn effective strikes and targets.
Become more aware of your surroundings and potential dangerous situations.

All participants receive a comprehensive visual workshop guide describing all defensive techniques taught during the program.
Corporate Workshops with an Edge!
Our personal safety team-building events engage your team while offering them simple, fun and effective self-defense instruction during an engaging seminar. No prior knowledge of martial arts is required for any attendees. Our events provide valuable personal safety information that is fun and engaging.
Build your team while providing them with a valuable life-saving information!
Up to 20 participants*
Time: 1 hour per session
$350 per session

* Participants should have loose fitting gym-type attire on during the workshop.
Conatct us today for more information!
We're conveniently located in Troy, New York at Troy Taekwondo serving the greater Albany and Rensselaer County regions (Troy, North Greenbush, Albany, Rensselaer & East Greenbush)!